RSS feed is a way to provide website content to be syndicated for the usage of other websites and publish continuously updating content. So in this tutorial, we will review How do I add an RSS feed to my Joomla site.
What is an RSS feed and how does it work?
RSS is a method of syndicating website content for use on other websites and publishing frequently changing content such as news headlines, forum posts, blog comments, video content, and calendar events.
The most significant advantage of RSS for users is that they do not have to visit each website to see if there is new content because the content will be delivered to them in a centralized location. Using an RSS feed, users can quickly scan through all the headlines, then read an excerpt from every story before deciding which one to read more of.
A website's most recently published content appears first in an RSS feed because it is distributed in real-time.
Let's See: How to install the Joomla template on the Server?
How do I create a simple RSS feed?
Step 1: Access your Joomla 3.9 administrator dashboard.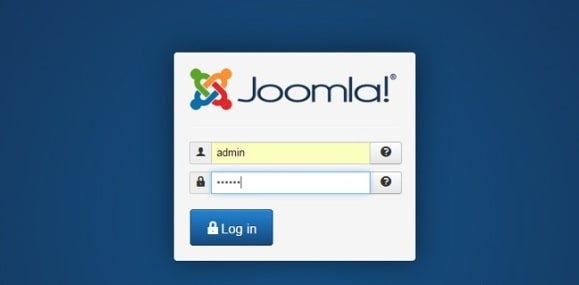 Step 2: Select Extensions -> Module Manager from the top menu.
Step 3: Click New at the top left of the page.
Step 4: Then Choose Syndication Feeds as the module type. In this step, there will be so many modules type will be displayed as a list.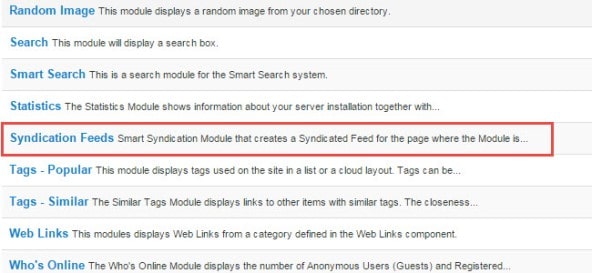 Let See: Top 10 Free Joomla Templates
Step 5: After that Enter the RSS feed's title and description.
Step 6: Select the RSS feed category.
Step 6: You can also insert images by clicking the Image button at the bottom of the page.
Step 7: A window will appear in which you can enter your RSS feed image.
 Step 8: Save the new RSS feed by clicking Save.
Step 9: Add a News Feeds component to this category by going to Components Feeds and clicking New.
Step 10: Enter the URL of the feed you want to subscribe to. Remember to select the category, which is the one you created above.
Again, the link from which you are displaying feeds must end with ?format=feed&type=rss. It must also be article-related content (i.e. a blog category link, a category list, featured articles, etc.). I've decided to show content from our Joomla Hub Tips and Tricks category here.
In the Display tab, you can also specify which feed content to display. For example, I choose to hide the images in the feed:
Now, navigate to the front end and refresh to see the result:
Summary: This is the primary process to create and set up feeds on the Joomla Website with the use of inbuilt functionality. there are third-party components and modules also available which can help you implement a newsfeed on your website. If you have any suggestions or questions please ask me below.