Now we are talking about the top 10 best freelance websites for beginners. You can create an account free of cost and complete your profile then you will get a chance to hire yourself.
I also working with Freelacer.com and Upwork.com both websites not taking any charge for registration. I am working for 6 years on Upwork regularly. So I like to Upwork and then Freelancer.
So there are 10 websites listed below –
Now we explain in detail about each freelancing website as below –
Let's See: What is Upwork and how does it work?
Freelancer.com is an online job market that provides a means for clients and freelancers around the globe to work together for mutual benefit. Individuals or businesses in need of qualified assistance for short-term or long-term projects may post such projects and allow freelancers to submit bids for the completion of work.
It provides immediate access to thousands of independent contractors with specific customer or service buyer skills, without the need to place job advertisements or provide workspace, insurance, etc.
Freelancer.com offers a constant source of part-time and full-time work opportunities for freelancers or service providers, without any problems and costs of advertising and self-promotion.
Projects with job details, skill specifications, and a budget range are posted by registered customers. Freelancers browse or search for projects that match their skills and interests. After reading the full descriptions of the projects, freelancers can place bids and upload their work samples to the client's portfolio page for verification.
Clients will examine the bids and samples posted to determine the most qualified bidders and award the project to one or more freelancers.
Upwork is a global freelance platform for freelancers, where service sellers and buyers connect and collaborate remotely. Involved freelancers to request project proposals.
After receiving job applications, the client discusses the specifics of the project with the chosen freelancer. If the client is impressed by the freelancer in terms of consistency, dedication, feedback, timing, price, and experience, he/she will hire you for this job.
Quality of work and professionalism between the client and the freelancer is crucial to successful outcomes. If clients want to build a 5-page website, logo, business cards, letterheads, envelopes, etc. in a $300 budget within 3 weeks. Customers can hire freelancers at a fixed price or on an hourly basis. Then he/she will post a project or work on freelance platforms, e.g. Upwork.
Upwork is the best online job market for clients and freelancers. It is the leader in this marketplace and has all the quality features required for the virtual workforce.
Fiverr is an online freelance marketplace where gigs can be offered. It's also a successful freelance website. On Fiverr, you can recruit a freelancer, and also you can work as a freelancer. You just need a few minutes to set up your Fiverr account, so you can start posting your gigs.
So now you have to ask yourself what these gigs are.
Simply put, gigs are like offerings. For eg, you can post a gig that says 'I'll write an essay at $5 cost for you' or something like 'I can edit a video for you at $10 cost .' What you're doing when you post a gig is that you're making an offer to do something that's nice for some money. This is how you make money out of Fiverr.
Fiverr is absolutely free to join and you can post all kinds of gigs on Fiverr. You can build bundles, too. Since this is mostly online, you can work wherever you think is convenient for you. Freelance has now become a well-known career choice. A lot of people prefer it because of the comforts that it promises. plus how much you earn is totally up to you, you can change your rates anytime you want and you can charge whatever rate you want. but yes there will always be a lot of competition in this field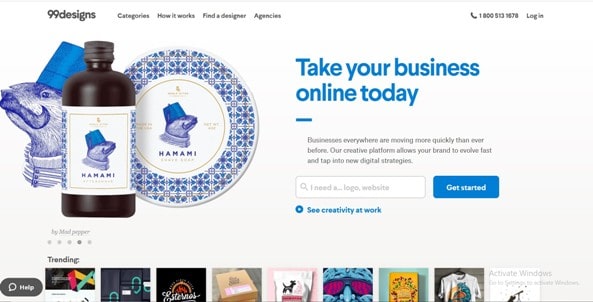 This freelance website focuses on designer work – everything from logos to book covers. It also helps clients to launch a competition in that anyone in 99Designs will participate.
At zero rate, you'll get a platform to showcase your work and develop your creative knowledge with up-to-date posts.
Truelancer is reportedly on India's top freelance websites. They have many talented freelancers from all over the web who have entered their portal, working in common categories such as computer programmers, web designers, logo designers, copywriters, data experts, marketing experts, and many others.
Their processes are neatly defined so that, as a freelancer, you're going to get your payments on time and the clients are going to get their job done to their satisfaction.
They have this process in which they clearly list the gig and the deliverables so that they are documented for both parties involved before they even begin their work.
It has mobile apps on android and iOS platforms. What that does is that it brings client job bids at a much faster pace as a lot of freelancers are logged in via their cellphone. You'll find that most of India's top freelancers are active on Truelancer because of the volume of work they get from there.
Toptal (company) is an online marketplace where you can find and hire freelance developers, financiers, and designers.
They're often compared to Upwork. But there are a couple of main differences:
All freelancers are going through the screening process before they get allowed on the site. Screening requires personality, English proficiency, and difficult skills assessments.
Generally, a customer who's looking for a specialist doesn't have the right to select the person to work with. Instead, Toptal's workers recommend an eligible candidate who has the right set of skills to complete the gig.
Freelancers cannot apply for a project, they can only be assigned to it.
They say that they only accept the top 3% of applicants, so Toptal is a bit pricey.
Designhillis an online design platform that helps business owners to deliver high-quality custom designs at affordable prices.
Companies with specific design requirements such as logo design, business card design, web design, stationary designs, packaging designs (more than 35+ categories of design), etc. can run design competitions and choose from dozens of designs submitted by designers from around the world.
The website is a combination of a crowdsourcing market for custom design and a creative platform for designers to learn and showcase their creative work. About 37,000+ graphic artists, logo designers, illustrators, and visual artists from all over the world work 24*7 on the website.
In addition, the sites give you an option to choose from 30-50+ unique designs in less than 7 days
One of the best things about Simply Hired is that you can browse freelance work in your local place. In addition, there is a list of top salaries and a function to estimate the payments.
This is useful in benchmarking for the unique work you want to do.
You'll also be able to build a resume on the website and learn a lot from their blog.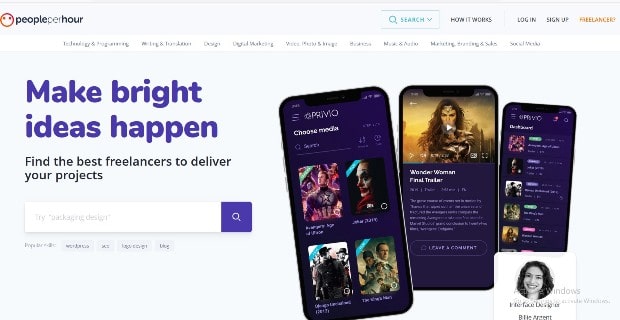 Let's See: How to Become Upwork Freelancer?
It's a platform that connects small businesses and freelancers around the world in a trusted environment where they buy and sell services to each other.
It's a high-quality and reliable freelance website where you can select remote outsourcers and workers in your local area.
You can also hire contractors and use the site as a source of extra revenue if you are interested in applying your skills to one of the many categories. According to its website, PeoplePerHour is the longest-running freelance service in the UK. It was created to connect freelancers with businesses.
LinkedIn is the biggest technical internet network in the world To find the right work or internship, connect and strengthen your professional relationships, and learn the abilities you need to succeed in your career,  it can be accessed from your laptop, your mobile app, your mobile web or your mobile LinkedIn Lite app.
A full LinkedIn profile will help you relate to opportunities by highlighting your unique career story through experience, expertise, and education.
Like Facebook, Instagram, Twitter, and others, LinkedIn is a social network. Just like every other social network, it's operated by a major tech company: Microsoft.
However, unlike most social networks, LinkedIn is a professional networking site designed to help people make business contacts, share their experiences then resume work and find jobs.
On LinkedIn, you're networking with people by adding them as 'connections,' it's just like how you'd make a friend's request on Facebook. You are communicating through a private message (or appropriate contact information) and you have all your professional experience and qualifications set out in a nicely arranged profile to be displayed to other users.
LinkedIn is similar to Facebook in terms of its layout and its wide variety of features. These features are more advanced since they appeal to professionals, but in general, if you know how to use Facebook or any similar social network, LinkedIn is very comparable.
Which is the best platform to start freelancing?
As a Freelancer with 5 years of experience in Freelancing and I used Freelancer.com, Upwork, Fiverr, PeoplePerHour, Guru, etc.
I got Jobs only from Upwork and Freelancer.com.
But I have done lots of work on Upwork and currently, I am using Upwork only as the primary website for freelancing. and secondary Freelancer.com.
But If you have some logo designing or specific fix rate services then you can try on Fiverr that is Gig based website to get the project.
So Finally I suggest the best Platform to Start Freelancing –
1) Upwork
2) Freelancer
3) Fiverr
I hope you like this post and get the answer to your query.