Upwork is providing a new feature in the proposal, boost your proposal with the help of connects. With this feature, freelancers have a chance to place a bid on top positions with the use of connects. In this article, we will discuss How to boost your proposal on Upwork with connects. To learn about how to get connects to upwork click on the link and read this post.
When you see a job that matched your skills and you are interested to apply for that, you can use connects to boost your proposal position in the submitted proposals by all freelancers. Upwork decides which projects to support, it depends on the number of connects used in the proposal by Freelancers. who bid highest Connects will have their proposal placed in the top slots and marked with a blue lightning bolt and the words "Highly Interested":
How to boost your proposal
Let See: How much does Upwork connects cost?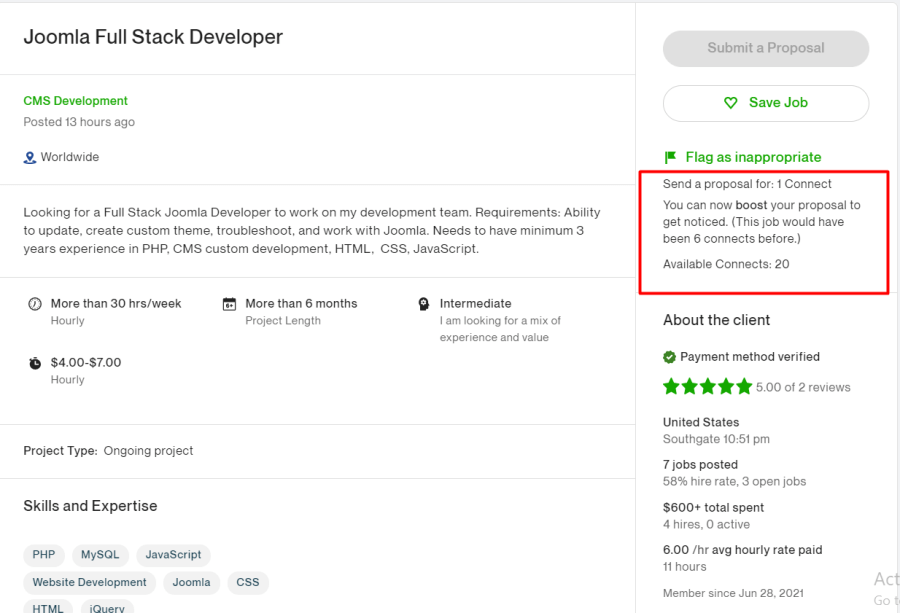 Let See: How can I get free connects on Upwork?
How does it work?
Find. You have to find a job posting that is perfectly matched for your skills and expertise.
Decide. You can bid to "boost" your proposal if you truly value the task. (Boosting your proposal is always optional; clients will still receive it if you don't.)
Bid. Set the maximum number of Connects you're ready to spend on a Boosted Proposal to earn one of the top places.
Check out the auction results. We'll promote your proposal to the client by adding a "Highly Interested" icon with a blue lightning bolt if you've bid enough (more than other freelancers). Your proposal will not be promoted or pushed down the list if you are outbid.
Let See: How do you write a proposal for Upwork
Important: If you submit a proposal to a job in the test group, you will be charged one Connect. You'll only have to pay the extra Connects if:
At the end of the auction, your proposal is placed in a promoted slot. OR 
During the auction process, the client interacted with your proposal.
Interactions that are eligible include:
Your proposal is opened by the client.
You receive an offer from a client.
Your proposal gets shortlisted by the client.
The client sends you a message.
Your proposal has been archived by the client.
Your proposal has been rejected by the client.
Let See: Overview of a Professional Upwork Profile
How to Place a Bid to boost your proposal on Upwork with Connects
At the bottom of your proposal, look for the "Boost your proposal (optional)" section. Please keep in mind that not all jobs will give you the option to boost your proposal during testing, so you may not see this option on some jobs at this time.
Add the number of Connects you want to bid on and then click "Boost."
Then click the "Send for (your total bid) Connects" button.