Are you a blogger looking for the top 10 best SEO tools for your website SEO or your client's website? If so, I have done the research and found the best SEO tools for bloggers to assist you as a beginner.
Whether you need support with keyword research, backlink analysis, or rank tracking, the tools listed below can help.
The following are the top 10 best SEO tools in 2023 for beginners:
Let's discuss all free SEO tools and paid best SEO tools
Top 10 Best SEO Tools For Beginners
The right tools can mean the difference between success and mediocrity for those entering the world of search engine optimisation (SEO). The top 10 SEO tools have been hand-selected for this exclusive compilation with an emphasis on beginners in the field. Accept the power of these cutting-edge approaches and soar to new heights in your online presence.
Businesses in highly competitive industries must learn a lot from their competitors in order to succeed in SEO. And SEMrush is one of the best SEO tools for the job. You may, for example, find which keywords perform best for your competitors and track changes in search engine rankings. Both of these assist you in determining who is on the rise and who may be vulnerable to replacement on page one. Do you want to know how much money a competitor spends on advertising? SEMrush can shed light on this topic and notify you when a new content publisher enters your industry. Naturally, more standard capabilities like backlink development, keyword research, and analytics are included.
Pricing starts at $100 per month, with various plans available.
As a disclaimer, I primarily use SEMrush as my primary SEO tool.
Learn More: What Is Content Management System (CMS)?
While SEO is difficult in most online tasks, some have a higher level of difficulty staying on top. Consider using Ahrefs if your company (or client) falls into this category. This is because they are particularly proficient at scouting industries and competitors for SEO-boosting opportunities. For example, they will tell you who is linking to your website and who is linking to your competitor's website. They also provide advice on how to get other websites to link to yours. In other words, Ahrefs takes a lot of the guesswork out of competing. Of course, they do a lot more than that, such as standard keyword research and reputation monitoring. Ahrefs, in particular, will tell you which keywords are easier to compete with and which to avoid. Ahrefs is also well-known for its ability to monitor competition.
Pricing: The "Lite" version starts at $99 per month.
While most people do not consider Google Analytics as an SEO tool, it is a fantastic best SEO tool for bloggers that can help you with your SEO efforts. This is because they will tell you how many times your website is visited, how much time people spend on it, and what searches led them to your page. Simultaneously, you can get extensive information on customer behavior and demographics. While this isn't the same as being told which keywords to use upfront, it does help to know which ones are working and which aren't. When there are spikes or drops in website traffic, you can tell if your efforts are successful. So, while I wouldn't rely solely on Google Analytics, it should be considered.
Pricing: The basic tool is free.
Learn More: How to add free Push Notification to our website
When we hear the term SEO, we usually think about keywords; however, links and site reputation are also important. That's where Majestic comes in. With this tool, you can get a full view of which backlinks are doing well for your website and which highly reliable sites are supporting you and your content. You can also learn about link density and the anchor texts that go with those all-important hyperlinks. Another Majestic function is "trust flow," which assists your website in gaining online credibility. Part of this is link prospecting, in which you look for chances for guest posts and product page placements. this is one of the best SEO tools for bloggers.
Pricing: The Lite edition begins at $49 per month.
Going to attempt to stop spammers and scammers? Even these websites are taken into account by Moz, so you know how to work around them. Even when following SEO-recommended practices, unethical individuals may require extra attention for that takedown. Moz isn't just about catching spammers; it's also about gaining client loyalty and trust. Something that spammers do not comprehend. How? With professional SEO audits, website crawling, SEO checkers, and keyword research. They'll even assist you with backlinking and domain-level credibility rankings, helping you to outperform the competition. Are you a locally owned and operated company? MOZ is one of the few SEO solutions that includes functionality for local marketing.
Pricing:  from $99 per month after a free trial period.
Learn More: What is Google Search Console?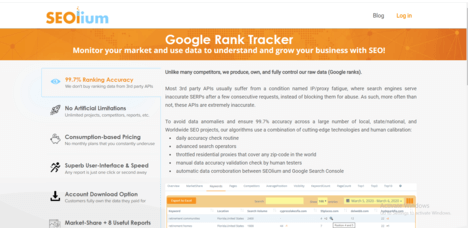 a professional rank-tracking tool It only does one thing well: it tracks your Google search rankings over time. Aside from its exceptional accuracy and a fair usage-based pricing plan, the principle of "no artificial limitations" is truly unique. It makes no difference whether you are on a non-expiring free trial or a paying customer — with SEOlium, all features are activated for all users, and you have unlimited projects, reports, websites, competitors, users, and so on. You just pay for the keywords that they need to track on your behalf! So just because other rank-tracking solutions are well-known does not mean that they are accurate or cost-effective. SEOlium is a chemical compound.
SEOlium is a reliable rank tracker at a reasonable price.
Pricing: is originally free, then based on real keyword query consumption.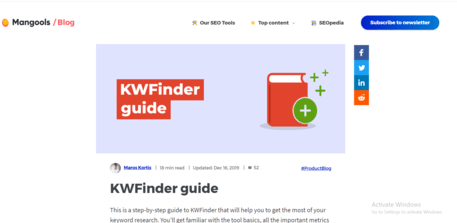 If you're looking for new keyword ideas, KWFinder by Mangools is a terrific resource. I like how they will give you an overall view of how difficult it will be to optimize for any specific keyword. In other words, where is the competitor focusing their efforts? This is scored on a scale of 1 to 100, and it includes the ability to find "uncrowded" keywords. These could be terms that people are looking for and are unable to locate, or they could be variations on popular keywords. KWFinder even analyses your direct competitors to show you what they're doing well and where they're falling short. You can compete directly on hot keywords or take a more indirect approach with secondary picks.
Keep in mind that this is part of a suite of tools, and you must pay for access to all of them.
Pricing: One of the most basic (single-user) packages costs $30 per month.
How does a browser extension that is free forever sound? With SEOQuake, you can perform an SEO audit on any website by simply clicking a few buttons. This is a simple method to compete with competitive websites by learning more about how they work. Perhaps most important, this browser extension will inform you of a website's SEO flaws. When assessing a competition, you might use their faults to try to knock them down the rankings. This similar functionality can assist you in resolving issues on your own site before they are exploited by others. Rather than overwhelming you with facts, SEOQuake allows you to expand the dashboard to see what you want to know.
SEOQuake allows you to broaden the dashboard to view what you want to know—or don't want to know. Finally, this extension includes most of the basic analytics and keyword analysis that other tools provide, but for free.
Pricing: Free!
Learn More: Top 10 Free Source Code Editors For Developers
Do you ever get the feeling that you're speaking the same thing over and over? You don't have to worry about your material becoming too similar over time with Siteliner. They will inform you. Simply enter a URL into their search engine, and the crawler will visit each page of the target website. After that, you'll receive a report on any duplicate content identified. Consider it Copyscape for internal content, especially since it is produced by the same company that makes Siteliner. The premium version may be required depending on the number of pages on your website and the frequency of searches desired.
Pricing is as follows: free for smaller sites, 1 cent per page over 25,000.
Tired of creating content only to discover that no one reads it? You may use Ubersuggest to find out what everyone is interested in and then develop content that is equally as amazing. Why, after all, should you take competition lying down? This tool is now owned by Neil Patel, so you know it was created by and for marketers. Patel says that with recent progress, you can practically reverse engineer the competition's website. This allows for highly accurate targeting with your own content and website text. That isn't to say you won't be able to get the keyword suggestions that made this app famous. These are still available, and they are free of charge. Site rank, SEO audits, and competitor analysis, on the other hand, is only available to clients. It is a free SEO tool for keyword research and SEO optimization tools that provides 3 times to research keywords content ideas with a free account.
Pricing begins at $59 per month.
Best SEO Tools FAQs
Is there a free SEO?
Answer: Yes, There are some free best SEO tools available. for example, Google Analytics, Google Search Console, Keyword Anywhere, and also some premium SEO Tools provide trails versions or free versions with limited access that are also helpful for bloggers.
How can I do SEO for free?
Answer: You can use Google free tools or use free trials version
Which tool is best for SEO?
Answer: I personally use Ahref, SEMRush, and Ubersuggestions for website Audit, ranking, Keyword Research, Google Search Console, and Google Analytics for tracking the ranking of keywords and pages, as also visitor engagements.
What is the best and cheapest SEO tool for beginners?
Answer: As I understand, the best SEO tool is Ubbersuggest. where you can find 3 search clicks with a free account. Its price is also less than other SEO tools.
What is the best SEO tool in 2023?
Answer:  for this question's answer read the above 5 best free SEO tools list. you can learn about it briefly.
What is the best SEO software?
Answer: I have already explained above that is :
SEMRUSH, Ahref, Ubbersuggest, Moz, Majestic, and others.
Which is the best free SEO tool?
Answer: For Free best SEO tools in India or other countries are Google Keywords Planners, Google Search Console, and Google Analytics.