Joomla is a free CMS, it naturally relies on certain expensive components to allow open access to its fundamental features. As a result, responsive Joomla themes will be more multifunctional, with at least a few plugins built-in. So in this article, we are talking about the Top 5 Joomla e-commerce templates.
As an online user, I would like to see a beautifully designed, easy-to-access, well-managed layout website. That will make it easy to purchase products for online users. So if you want to create an eCommerce website you should keep in mind to choose an amazing Joomla template. Before to know about the best eCommerce Joomla templates, let's see about the Joomla template below-
What is the Joomla template?
Joomla! templates are extensions that change the look and feel of your website. Joomla! defines the appearance of the main site as well as your administration dashboard using both front-end and back-end themes.
Let see: Joomla vs wordpress
In this article, we are talking about the top 5 Joomla eCommerce templates in 2023, Please see an article where we are describing the top 10 free Joomla templates. So this article is most useful for Joomla developers or Joomla beginners who want to create a website in Joomla for their clients or themselves with the eCommerce components like Virtuemart, Hikashop, Joomshopping, etc.
Learn more about the 5 Best eCommerce Extensions Joomla
I suppose it goes without saying that having a professional and well-designed website is extremely important, especially for an online business. Your online appearance could greatly impact your business. And the actual question is whether having any website design is sufficient or whether you require more.
A perfect Joomla e-commerce website, in my opinion, should have:
A gorgeous and up-to-date design that highlights the store perfectly while still displaying its own personality;
Maximum compatibility with the Shopping Cart Extension for increased product sales;
Including the required e-commerce pages/features to allow the business to run properly;
Fully compatible with Joomla 3. x and Joomla 4 for a better user experience;
Providing the best value for money.
Choosing a template that meets all of the above criteria and is appropriate for your business idea might be a difficult challenge. And I am aware that I am unable to complete this duty for you. But, to save you time and work, I've created a list of some of the top Joomla e-commerce templates in my view for your consideration.
Joomla eCommerce template
The following 5 Joomla templates are from different sources of template development companies. all are compatible with Joomla 3. x and a few for Joomla 4 Template. We have added a button for the Joomla eCommerce demo link, and the buy now links.
1. BeStore – Multipurpose Joomla eCommerce Template
Sj BeStore – A multipurpose eCommerce Joomla template with a lot of customizable options and a visually appealing design. Highly customizable, updated on a regular basis, and with premium support. Sj BeStore VirtueMart Theme was created specifically for technology, electronics, accessories, computers, fashion, and any other type of store.
BeStore-technology Sj The Joomla template(Joomla Virtuemart template) is based on the VirtueMart 3 component. Sj BeStore has a variety of complex eCommerce features and functions, including Mega Menu, Drag & Drop Builder, Ajax Filter for VirtueMart, Mini Cart Pro, Product Quickview, RTL language, and 65+ Useful ShortCodes. BeStore allows you to quickly set up your online store in minutes without any coding.
For more information please have a look
| | |
| --- | --- |
| Price | 48$ |
| Template Source | Themeforest |
| Compatible With | VirtueMart 3.0.x, Bootstrap 3. x |
| Buy Now | Demo |
Let See: Top 10 Free Joomla Templates
2. Veneno – Multipurpose Joomla eCommerce Template
Vina Veneno is a multipurpose responsive eCommerce Joomla Template built by Joomla 3. x and the JoomShopping component – the most user-friendly Joomla Online Shop. This Joomla template is clean and simple, with three stores and one business layout, providing you with a variety of options for your online store or portfolio/company website. That would be an excellent option for an online sports store, a fashion store, accessories, or any other type of product.
For more information please have a look:
| | |
| --- | --- |
| Price | 48$ |
| Template Source | Themeforest |
| Compatible With | JoomShopping, Bootstrap 3. x |
| Buy Now | Demo |
Let See: How to create a template in Joomla?
3. Arino – JoomShaper Template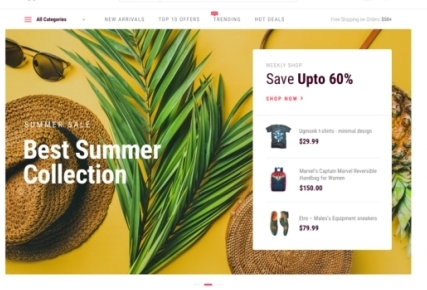 Arino is a powerful and functional Joomla eCommerce template. It is an excellent alternative for online sellers, business owners, retailers, and store owners who want to promote and sell their items. Arino has an appealing and clean design. For improved visitor impressions, the products are presented in a beautiful and modern manner.
This Joomla eCommerce template also includes a ready-made checkout page to assist you in increasing conversion rates. Arino features five distinct homepage variants (Default, Furniture, Electronics, Fashion, and Organic). The template design includes a variety of customization options that allow you to simply change the site's background, fonts, colors, and logo.
Arino was created with the powerful drag-and-drop SP Page Builder Pro, which is highly useful for setting up and customizing the site layout. You may save a lot of time by utilizing customization options as well as the pre-designed pages and pieces contained within. Using the available choices, you can create unique-looking pages in minutes with this Joomla shop template!
QuickStart is a Joomla eCommerce template that comes with everything you need to build an excellent site, including SP Page Builder Pro (for $49), Helix Ultimate framework, J2Store (for free), and more. If you require all of the eCommerce functionalities, J2Store Pro is the way to go. If you want to construct a truly practical eCommerce Joomla template, this is the template to choose.
| | |
| --- | --- |
| Price | 59$ |
| Template Source | Joomshaper |
| Compatible With | J2Store, SP Page Builder Pro |
| Buy Now | Demo |
Let See: How do I add an RSS feed to my Joomla site?
4. JSN Kitchen- joomlashine Template
JSN Kitchen was created specifically for a kitchen appliance business. This Joomla template has a simple interface with a complete response and some unique and modern features that make it simple to create an attractive website. Your online store is in good hands because it is fully responsive and integrated with J2Store.
Features
JSN's trendy and current design can assist you in promoting your kitchen items and brands.
The layout framework is adaptable and may be readily altered.
6 lovely colour options to choose from.
All of the blocks are arranged in a logical order to effectively display your products.
All current devices and main popular browsers display well right away.
Show products with all the required attributes.
Accept payments with multiple payment methods.
Rich visual control panel to track transactions.
Use all the powerful J2Store features.
User-friendly admin interface.
Drag-n-drop builder system.
SEO-optimized and mobile-friendly layouts.
For more information please have a look
| | |
| --- | --- |
| Price | 49$ and free for 30 days |
| Template Source | Joomlashine |
| Compatible With | J2Store, JSN Page Builder 4 |
| Buy Now | Demo |
Let See: 5 Best Shopping Cart & eCommerce Extensions for Joomla 3. x
5. JA Shoe Store– Joomlart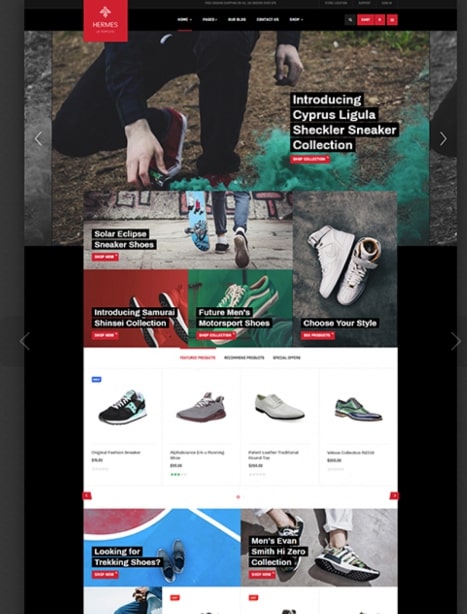 This is a dedicated eCommerce Joomla template for multiple shop types: A shoe store, Fashion, Clothes, etc. with a modern and creative design concept based on Virtuemart Joomla, a free Joomla eCommerce component. JA Shoe Store covers all eCommerce pages: Product categories, Product List, Product detail, Shopping cart, Checkout, Brand, and Manufacturer… as well as all Joomla basic pages with customizable styling.
The eCommerce Joomla is built on the strong T3 Framework, incorporates Bootstrap 3, and is fully responsive.
Features
Designed for a variety of shopping environments
Virtuemart is fully supported.
All eCommerce pages are supported.
Design that is completely responsive
All Joomla default pages are supported.
T3 Framework was used to create this website.
Language layout from right to left
For more information please have a look
| | |
| --- | --- |
| Price | 89$ |
| Template Source | Joomlart |
| Compatible With | Virtuemart, JSN Page Builder 4 |
| Buy Now | Demo |