There are thousands of WordPress themes to choose from (both free and paid). As a beginner, you may want to test a few of them on your site until you find the one that works best for you. In this article, you will learn How do I upload a theme to cPanel?. So read this article till the last.
In this beginner's guide, we'll go over how to install a WordPress theme in detail, step by step. We'll go over three different methods for installing a WordPress theme so you can pick the one that works best for you.
Before Installing a WordPress Theme:-
Before Installing the WordPress theme you should learn about How to install WordPress from Cpanel  & What is WordPress and how does it work?
WordPress themes are simple to install, but keep in mind that when you activate a new theme, it will change the look and functionality of the site.
Check out our checklist of things you need to do before changing WordPress themes if you're switching from an existing theme.
You're ready to go if you're installing a WordPress theme on a new site.
Bonus Tip: Check out our list of the best free WordPress themes
Using the WordPress Admin Theme Search, install a theme.
The most convenient way to install a free WordPress theme from the WordPress.org themes directory is to use the built-in theme search tool.
The first step is to log into your WordPress admin area. Then, on the Appearance » Themes tab, click on the Add New Button.
On the following screen, you can choose from Featured WordPress themes, Popular WordPress themes, Latest WordPress themes, search for a specific theme, or search for themes with specific features.
By using the 'Feature Filter' option, you can sort themes by their features. You can sort themes by subject, specific features, and layout, for example.
You will see a list of themes that meet your criteria based on your search. In our situation, we looked for the popular Newsday theme.
Simply place your mouse over the image of the theme you wish to install when you see it. This reveals the install, preview, and details buttons.
Let See: 5 Best WordPress Hosting in 2023
Go ahead and press the install button.
WordPress will now install your theme and display a success message, as well as the 'Activate' or 'Live Preview' buttons.
After clicking the Activate button, your WordPress theme has been successfully installed and activated.
Depending on the theme, it may include additional settings choices that must be configured.
For example, your theme may request that you install recommended plugins, download demo data, or check settings.
To begin configuring your theme, either follow the on-screen instructions or click the Go to the Customiser button as below screen.
Install a theme from WordPress Admin by using the Upload Method.
The first approach we discussed only allows you to install free themes from the WordPress.org theme directory.
What if you need to install a premium WordPress theme from a company like StudioPress, Elegant Themes, Themify, Themeforest, or others?
What if you prefer to use a different theme? In this scenario, you'll need to install the theme through your WordPress admin using the upload option.
Begin by downloading the.zip file of the theme you bought from a marketplace or a commercial theme shop.
Then, in the WordPress admin area, navigate to the Appearance » Themes page and select the Add New button at the top.
This will bring you to the add new theme page, which will show you the featured free themes. Since you already have the theme you wish to install, proceed to the top and click the 'Upload Theme' button.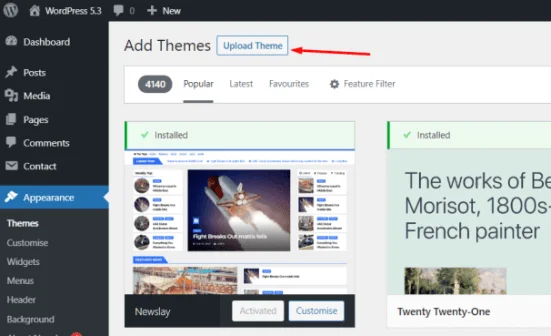 Let See: How to install WordPress from Cpanel
You will be prompted to select the zip file that you already downloaded. Choose the file and click the Install Now button.
Once your theme has been installed, you will get a success message with a link to activate and preview it.
After clicking the 'Activate' link, you will have successfully installed and activated your WordPress theme.
Depending on the theme, it may include additional settings choices that you must change via the theme customizer or a separate options panel.
Using FTP to Install a WordPress Theme
You can learn how to install WordPress themes via FTP if you're feeling generous and want to boost your skills to the next level.
Remember that this is not for actual beginners because it is a little more advanced.
To start, download and save the theme zip file to your PC. After that, you must unzip the file.
This will create a new folder on your computer with the name of the theme. We downloaded Sahifa-Theme from the popular ThemeForest themes.
You're ready to upload the theme files to your website now that you have them.
To do so, you'll need to use an FTP client to connect to your website / WordPress hosting account. If you need more information, visit our instructions on how to upload WordPress files through FTP.
After you've connected, browse to the /wp-content/themes/ folder. You'll find folders for all of the themes that are currently installed on your website inside.
Select and upload your unzipped theme folder from your PC to your website.
You'll need to go to your admin section and click on Appearance » Themes after you've uploaded the theme.
There should be a listing for the theme you uploaded. Simply place your mouse over the theme you want to activate and click the activate button, same as in the above step.
So finally your theme has been installed successfully installed now you can update settings or customize it according to your need.