When I created my profile on Upwork it was approved for the first time. Since I made Aug 25, 2014, at this time maybe there was low competition, but these days it isn't simple to get the Upwork profile approved.
Why Upwork account not Approved?
My friend created an account on Upwork approx. 2018 he get a message like the below image
Then he called me about that and I was surprised to hear about that problem. After that, I created a new profile and I got the same message the profile was rejected, but I read the messages and I submit again for review because I knew that my skill has a scope on Upwork. I have added Joomla, WordPress, and PHP as my skills and my friend had added Android and others because he is an android developer.
So I am not sure what is the scope of Android on Upwork. Of course, they're many developers for all skills but some time Upwork algorithm rejects the profile by mistake so we should resubmit the profile for review again.
Luckily my new profile was approved a second time, So I feel Up work can be rejected by mistake or there are filters the first time automatically and the second time team checks the other things as well. But with that thing, we can understand Upwork ensures that people are serious or not because Upwork doesn't want to allow people just for time pass or testing purposes. So overall Upwork changing its terms and policy to improve its services for active, talented, and professional persons (Clients and freelancers or agencies). If you will not earn or do not perform well Upwork will suspend your account.
Let See: Best Upwork Profile Example In 2023
How to
Get
our Upwork Profile
Approved
So now let me share some important points so your profile is approved.
1. Create Your Account with Professional Email Address
First of all, create your profile with a professional email that means Upwork registration is not normal registration like social media or personal. This is a freelancer business account, So Upwork ensures that people take freelancers as seriously or not. if you have your business email account then it will be good that will make your profile more professional like yourname@yourdomain.com
you can notice that when we make a signup there text field shows "work email address" which means Upwork is only for people that want to do work here or business here.
After entering an email address then if we use a normal email address like @gmail.com, @hotmail.com or @yahoo.com Upwork shows a warning message there like the below image
 2. Write a Job Title with your expertise
Upwork determines the profile with every point, So your profile job title also plays a big role to get a job from Upwork jobs.
Upwork algorithm preferred Job Titles that explain your skills and your services what you will do not your position. like "Joomla Expert", "WordPress Expert" or "SEO Expert" etc. But Upwork will reject profiles if they have a job title like "Business Manager"  or "Project Manager".
So when you create your job title then provide the best title that summarized your expertise in one sentence.
Upwork Job Title plays a role like visiting card of freelancer services. When a client wants to hire a freelancer to complete his project he will search using keywords then the Upwork algorithm checks the Job Title of the freelancer. So you have to enter a Job title related to the expertise and services that you will provide to your clients, not the position that you have in your office or your team.
Your Job Title should not be very small like "Content Writer", or "Developer". A small job title will not help to get impress clients or may be rejected by Upwork. So your job title should be a little bit large approx one sentence like "Content writer expert" or "Joomla Expert Developer" etc. So Upwork can find it easy to match your job title with project-required skills. Upwork will approve that profile easily also.
 Learn About: Most Demanding Skills on Upwork 2023
3. Write a Professional Overview
After Job Title, the profile overview is the second part that plays a vital role to get approval and this is important to attract clients Because your profile overview explains what you can do and what is your strength, or what services you will provide to your clients.
A professional overview should have 4k to 5k characters in the profile overview but most freelancers just add only 300 to 400 characters. I also added only 300 characters when I was a beginner.  but after that, I checked other expert freelancers' profile overviews then I understood it and updated and added 3376 characters.
You should take some time to think and describe better your expertise and experience that will expand your overview and that present your mindset about your job and how you can help clients to grow their business and more.
Upwork provides one more option to explain your overview which is video. So you can add your video to explain your services which are not mandatory but it will make your profile more attractive and professional.
Let See:  Top 10 world's Best Freelancing websites
4. Select Your Unique Category and Skills
The next important point is a category and skills expertise to approve your profile by Upwork. You can add a maximum of 10 categories and make sure these are most searchable by the client in Upwork.
You should add maximum categories if you have expertise in that categories. Because your categories expand your range of expertise. Upwork understands the range of your expertise if your categories are demanded and approved that.
Let See:  How to Get Work on Upwork with No Experience?
If you do have not much experience in categories you should include that. I have added Technical support while I do have not much experience with it but I have the knowledge and I can do it, So I have added the Technical Support category.
Apart from categories, Upwork has skills to add to your profile and you can also add a maximum of 10 skills. So make sure you have added all 10 skills.
Select your best skills first and then select secondary skills accordingly.
With the help of skills, the Client filters the freelancers to hire for projects. Also, a freelancer filters the project using skills. But you should know very well about those skills and you can find it
5. Add your Portfolio/ Projects
Add your projects where you have worked in the past and after every project, you should add to your portfolio.
if you have not worked on it yet and you just starting here so there are some methods to get a sample showcase and make your portfolio
I will write an article and give you here a link soon.
Please take enough time to enter your project detail. Don't try to finish in early time anyhow. You have to add all skills that are used in your project and make sure you have described them in a good manner. It should be valuable in the Upwork marketplace.
One thing we have to keep in mind is that we don't have to just create an Upwork profile and insert the data that is mandatory while we have you insert maximum data with max information because we are building a professional Upwork profile.
Read More:  Why Upwork Account Suspended? What Should You Do Next?
6. Add Your Education and Certifications
Every people have education in a specific stream, So adding your Education to Upwork that is a strong move to approve your profile and it is also important to prove your skill.
Read More:  Top 10 Tips to Starting Freelancing for Beginners
If you have an additional certification in any stream then you have to add it here
Explain to Upwork everything you have done or can do.
7. Add You're Relevant Experience
Most of the time freelancers make one mistake when entering their expertise. They calculate only the freelancing experience, whereas, in the Upwork profile, it is the overall experience of the individual in their best set of skills.
What I mean is – if you are a beginner in PHP development and an experienced Angular developer. As a freelancer, you want to be working in PHP over Angular. So if you choose PHP or Joomla as a skill for freelancing, you may be considered an "Entry Level" freelancer. But if you prefer Angular as well as PHP and Joomla, you can be an "Intermediate" or an "Expert" level.
We aren't providing any wrong or misleading information. It is the most experienced in technology. It is the primary skill. Though we prefer working in other areas more as a freelancer.
Read More: How can I get free connects on Upwork?
8. Add Your Past Employment
We have to add our employment history in our Upwork profile and if you have no experience means you have not done any job then you can add your training experience or skill if you have or and if you have just passed out of college then add your final semester internship detail here.
Read More: How to deal when the Client does not make payment?
9. Connect Your Social Media Accounts
Connect your all social media accounts & other development site account as possible.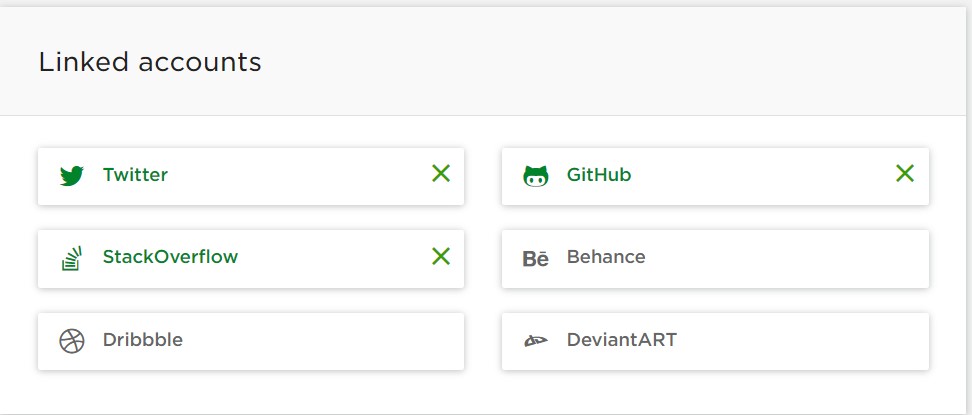 Some time ago Upwork offers Facebook and LinkedIn but now both site options have been removed.
Read More: how do you get your first Upwork job?
10. Learn Unique and Demanded Skills
If your profile has not been approved and you have tried all the above steps then you should learn new skills that are not common, So that way is very perfect to get approved your profile.
It does not matter which skill get more jobs once your profile has been approved then you can bid on any type of job, but the client preferred your added skills, But if you have done any skills-related job then you can share in your profile that will help to get such type of job.
and not even only Upwork you can grab the client from outside and connect on Upwork to get an approved profile
11. Search for a Client to hire you on Upwork
Upwork has a program called BYOF or Bring Your Freelancer for clients.
If you can get a client anywhere like from your blog or via a reference or freelancer sites like Freelancer, PeoplePerHour, or Guru you can ask the client to invite you on Upwork. Your profile will be approved instantly.
12. Don't Apply for Multiple Accounts
If the profile isn't approved the first time, there is no way it will be approved the next time. That means all profiles will get suspended.
Same as, if your Upwork profile has been suspended last time for violation of any terms and conditions, do not expect the new one to get accepted.
If your account has been suspended, that means it is different from profile rejection. You can get rejected multiple times before it is approved. But Once suspended, there are very few chances we can do about it.
Let's see: How can I get top-rated in Upwork?
13. Associate with an Agency Account
We can create two types of accounts, Individual freelancer and Agency accounts.
There can be more than one freelancer who works as a business developer for the agency in the agency accounts.
If your colleagues or friends have an Upwork agency profile, you can associate it with being part of his agency profile, and then your profile will be approved.
Note that the work you will do may be as a member of the agency you can show on the agency profile, not on your profile. Keep this in mind.
Summary- It is not a recommended method, but a partnership as it is also an option to get the Upwork profile approved. It is always better than getting an individual freelancer profile.
14. Find an Alternative Site
If all your efforts are not working while it is the worst case, most of the change will work. Then you have to move to another website, Upwork is not the last step of the freelancing marketplace while there are so many websites where you can work as a freelancer.
Let's See:  How to deal when the Client does not make payment?