Freelancing and blogging both are different things, and it depends on your situation where are you right now?
An important point is you can earn money instantly from freelancing, but in blogging, you need passion and do continuous article posts, it can take 3 to 6 months to start earning money. it will depend on blog traffic how much you will earn.
Is freelancing good for beginners?
If you are just starting your career and want to select one of both options freelancing and blogging. then you have to think about the following points-
1.) Do You have any skills, So you can get jobs from freelancing websites like Upwork, Freelancer.com, and Fiver, etc. if you want to learn how to get work on Upwork with no experience, you can read our blog post.
Also, you can learn How do you make money on Fiverr with no experience, then you can read the best post on the blog JoomTech Solutions.
From Freelancing, you can earn decent money in a very small time. But you should have expertise in your skills like Webdesign, Graphics designer, software developer, data entry operator, Logo Design, and so more profile you can work and earn decent money.
2.) If you have no skills and don't have time to learn new skills or you are not interested in learning new skills and only want a way where you can earn money online.
Is blogging easy or difficult?
So you can choose blogging that is best for you. but is not very easy to earn money from blogging, while it is a long way to earn money rather than freelancing.
it can take 3 months, or 6 months or more depend on your effort and content and writing skills.
So my suggestion is that you should make a plan.
Which is better freelancing or blogging?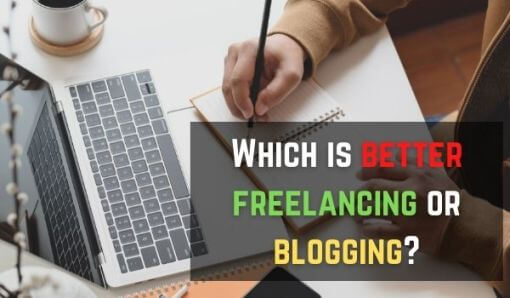 if you are Bachelor and do not have any financial responsibility then you can start blogging. So that means you don't have an urgent requirement for money.
but you have some financial responsibilities and need monthly income then you start freelancing but you should have some skills.
OR you can start blogging part-time. and after monetizing your blog and getting decent traffic then you can switch full-time blogger.
Important Note: for long-term blogging is best to compare to freelancing and in the point of income that is also greater than freelancing. And you can easily make team bloggers rather than freelancers.
So I would like to suggest you start work as a freelancer with part-time blogging.
Let See: What is Freelancing? and How do I start freelancing?