The Template Manager allows you to preview and edit the Joomla! templates files that you have installed. So in this article, we will learn how to access the Template files in Joomla.
Templates are extensions that control how a Joomla! the site looks and feels. There are two templates: site templates for the front end of the site and administrator templates for the back end. For more information on templates, see What Joomla are templates?
Access the Template files in Joomla
To access the Template Manager, first, log in to Joomla! administrator interface or backend with your administrator Username and Password. Ensure that the administrator is a member of the Super Users group.
You can access the Template Manager in one of two ways once you're in the administrator Control Panel:
From the sidebar of the Control Panel
In the Control Panel sidebar, click Templates.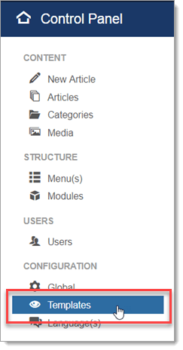 From the main menu of the administrator
To access the Template Manager from anywhere in the administrator interface, go to Extensions > Templates on the main menu.
Let See: 5 Best Free Joomla Templates 2022
Template Manager Styles window
The Template Manager Styles screen should now display a table of installed Joomla! Templates.

The screen by default displays front-end (Site) templates. Select Administrator from the Site dropdown to view back-end templates.
The Styles screen is where you can preview a template (click the Eye icon), edit the styles of a template (click the template's name), and change the default template (see How to Switch a Joomla! template). A yellow star indicates the current default template.
Template Manager Templates window
A Templates screen is also available in the Template Manager. Click the Templates link in the sidebar to open the Templates screen. You can also get to it from the main menu by going to Extensions > Templates > Templates.
The Templates screen also displays a table of the installed templates, and, as with the Styles screen, you can toggle between front-end (Site) and back-end (Administrator) templates using the Site dropdown.
The Templates screen allows you to preview a template (by clicking the Preview link) and edit the template's files (by clicking the template's name). To change the default Joomla! Return to the Styles screen (see How to Change a Joomla! Template).
What is Joomla? templates? explains more about Joomla! templates, including where to find and how to install them.
If you have any further questions or require assistance, please open a support ticket from your HostPapa Dashboard. To find out how to click here.